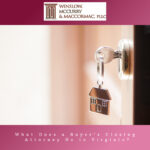 If you are looking to purchase a home and considering hiring an attorney to assist with your closing, you may be wondering what does a Buyer's closing attorney do?  Along with being able to provide you legal advice through out the closing term, very generally, the buyer's closing attorney will also:
The buyer's closing attorney in a real estate transaction orders a title search and examination that will show the history of ownership of the property and alerts the attorney to any issues like outstanding liens or judgments that affect title.  The buyer's attorney can then work with the seller's attorney to seek resolution for the outstanding liens or judgments.
The buyer's closing attorney reviews documents like the contract, the deed of conveyance, lender documents and any forms required for title insurance to make sure they accurately reflect the agreement between the parties.
The buyer's closing attorney prepares the settlement statement and oversees the payout of all funds that change hands during the closing process.
The buyer's attorney ensures that the deed is properly recorded to show the change of ownership of the property.
These are just generally the roles of a buyer's real estate attorney in a closing.  We certainly understand that the process of buying a home can be challenging and stressful. It is important to remember that only an attorney can provide legal advice. The Real Estate Attorneys at Winslow, McCurry, & MacCormac, PLLC are here to help you achieve your home ownership goals and make the process go as smoothly as possible!