Welcome
Welcome Legal Resources Members!
As you know, Legal Resources is an optional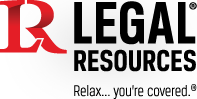 benefit program that protects employees, spouses, and dependent children (up to age 19 or 26 if enrolled as a full-time student) from paying the high cost of attorney fees associated with everyday life events. The plan offers comprehensive legal coverage on a broad range of services for a monthly payroll deduction.  Legal Resources covers 100 percent of the attorney fees for fully covered legal services, including certain (but not all):
Family law matters, uncontested divorce
General advice and consultation
Elder law
Criminal matters
Will drafting
Traffic violations
Civil actions
Preparation and review of routine legal documents
Consumer relations and credit protection
Identity theft
For an exact list of what Legal Resources does and does not cover, we would direct you to your policy documents.  For anything that is not expressly included in your policy, Winslow & McCurry provides Legal Resource clients those at a 25 percent discount under the expanded coverage benefit.
How the plan works
Become a member by enrolling with your Employer
Based on your home zip code, you can choose "Winslow & McCurry" as your provider
Receive a welcome kit with member identification cards and information about Winslow, McCurry & MacCormac
When legal services are needed, call us and simply say "I am a Legal Resources member" and your membership will be verified and services provided.