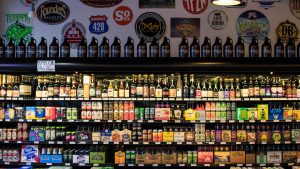 Over the past several weeks, Governor Northam has issued a number of Executive Orders related to what is and is not allowable for Virginia retail businesses and restaurants.
Following the Governor's Executive Order 51 on March 12th, Virginia ABC instituted several policy changes in an attempt to support bars and restaurants that are facing hardship during this time.
Effective March 20th, Virginia ABC is allowing businesses with on-premises licenses to enjoy off-premises privileges.  Meaning that bars and restaurants are allowed to sell wine and beer (in sealed containers) to customers either through curbside pickup or delivery.
Many breweries in the Richmond area, who relied on taproom sales for revenue, have turned to offering pickup and delivery of cans and growlers during this time.
In addition to allowing the delivery of wine or beer through third-party delivery services, Virginia's ABC is now allowing distilleries to ship spirits to in-state consumers. This only applies to distilleries that are registered with Virginia ABC and have the required approval from Virginia ABC to produce and sell their spirits in the Commonwealth. There are restrictions on what distilleries are allowed to ship, including limiting the size of the bottles to 1.75 liters and the number of spirits to 6 bottles.
These policies will remain in effect as long as Executive Order 51 is in effect, which at this time is until June 10, 2020.
If you have questions about ABC licenses or policies in Virginia, please contact the attorneys of Winslow & McCurry, PLLC at (804)423-1382 or email us at info@wmmlegal.com.