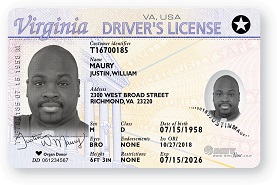 With the rapid spread of COVID-19 and the declaration of a national emergency, the Department of Homeland Security has made the decision to extend the deadline in which all U.S. citizens and Non-citizens are required to obtain a Real ID. The deadline has been extended by twelve months, moving from October 1, 2020 to October 1, 2021. The reasoning behind the decision was clear, as it was necessary to not only aid in the attempts to mitigate the spread of COVID -19, but also protect the health and safety of Department of Motor Vehicle employees and their patrons.
As we outlined in our post last year, Real ID is similar to a government issued driver's license, but with far more requirements. A Real ID applicant must provide the following:
* A U.S. passport or birth certificate (must be original document)
* Social Security Card or W2 that includes the applicant's social security number (must be original document)
* A valid Virginia Driver's license (must be original document)
* Mortgage statement, current utility bill or a lease agreement showing proof of residency (can be a copy or print out)
* Proof of name change (if applicable)
Non-U.S. Citizens can also acquire a Real ID, but must be able show proof of identification, such as a visa, permanent resident card or employment authorization.
Real ID's can be used to board domestic flights, drive, register to vote, verify identity or enter military installations and other secure federal facilities. However, Real ID's are not mandatory. Citizens can choose to either renew their current driver's license or obtain a Real ID. If a standard driver's license it renewed, be mindful that it will display "Federal Limits Apply" and an additional form of documentation will be required. The cost of a Real ID is $32.00 and additional information can be found at Virginia DMV or the Department of Homeland Security's website.
If you have questions regarding the REAL Id or traffic matters in central Virginia, including Richmond, Chesterfield, Henrico, Hanover or the surrounding jurisdictions, please contact the attorneys of Winslow & McCurry, PLLC at (804) 423-1382.  We would be happy to help.