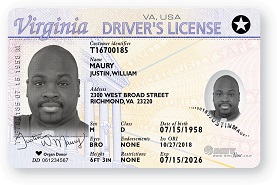 There have been many stories in the national media regarding REAL ID identification and when it will be necessary for travel in the United States.  We have been asked what does this mean for Virginia residents?  The Virginia Department of Motor Vehicles has begun to issue optional REAL ID driver's licenses and identification cards. The demarcation of a small star in the upper right corner will identify REAL ID compliant cards.
REAL ID credentials can be used for all of the same purposes as a regular driver's license, including driving, voting and accessing federal benefits. Beginning October 1, 2020, it will also be able to be used as federal identification, and will be necessary for boarding domestic flights and entering secure federal facilities. Other forms of acceptable alternate federal identification currently include a U.S. passport, a passport card and some military IDs.
Virginia DMV is now offering the option to add REAL ID credentials so as not to inconvenience Virginians who rely on their state-issued driver's license or identification card to board domestic flights or enter secure federal facilities or military bases after the change in federal ID requirements beginning in October 2020.
To apply for a REAL ID, Virginians must appear in person and will need to bring similar documentation to that needed when applying for a driver's license and pay the one-time $10 REAL ID surcharge.
If you have questions regarding traffic matters in central Virginia, including Richmond, Chesterfield, Henrico, Hanover or the surrounding jurisdictions, please contact the attorneys of Winslow & McCurry, PLLC at (804) 423-1382.  We would be happy to help.