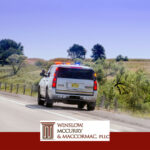 Most Virginia drivers are familiar with VA Code § 46.2-861.1. "Drivers to yield right-of-way or reduce speed when approaching stationary vehicles displaying certain warning lights on highways", colloquially known as Virginia's "Move over law."
Under the current law, the driver of any motor vehicle, upon approaching a stationary vehicle that is displaying a flashing, blinking, or alternating blue, red, or amber light or lights shall if reasonable, with due regard for safety and traffic conditions, yield the right-of-way by making a lane change into a lane not adjacent to the stationary vehicle or (ii) if changing lanes would be unreasonable or unsafe, proceed with due caution and maintain a safe speed for highway conditions.
As of July 1, 2023 that law will expand to include ANY car parked along the side of the road, regardless of its lights or markings.  The reasoning behind the change is an attempt to keep all drivers safe who are forced to pull over and park on the side of a road.
If you have questions about the potential penalties for a traffic ticket that you have received, contact the lawyers at Winslow, McCurry & MacCormac at 804.423.1382 or Info@wmmlegal.com.