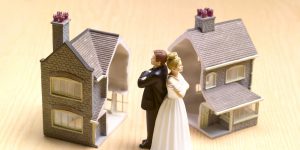 When a couple in Virginia decides to pursue a "no-fault" divorce, they must live separate and apart in excess of six months to a year depending on the circumstances under Virginia Code § 20-91(A)(9).  Many times, owing to financial constraints couples must continue to reside under same roof for some of the required time, being careful to live as independently as possible (i.e.,  buying your own groceries, living in different rooms, not participating in communal activities, etc.). Sometimes couples will enter into a short living separate and apart agreement that does not divide assets/debts like a formal Property Settlement Agreement, but rather to merely document in writing a date of separation. It's a best practice for couples who must live together for a period of time under the same roof while living "separate and apart" to have such a written agreement in case of dispute, or, as illustrated below, to protect their liability for bills of their soon to be ex-spouse.
Virginia Code § 8.01-220.2 states that if your spouse visits an emergency room and receives "emergency medical care" from a doctor or the hospital, while you and your spouse "are living together", you and your spouse are "jointly and severally liable" for those costs at the time of the services being rendered (not when they become delinquent, or a judgement for failure to pay is levied).  Medical bills for these services can often climb into the thousands, if not hundreds of thousands of dollars, and if a couple finds themselves in the scenario of going through a divorce, while trying to satisfy the requirement to live separate and apart, and one spouse incurs emergency medical bills, both spouses will be liable, unless a spouse can prove they were not living together. This example highlights the importance of a formal, memorialization of living separate and apart for spouses, especially when under the same roof.
If you have questions regarding living separate and apart to obtain a no-fault divorce, or if you have questions regarding emergency medical care bills for a spouse and your liability, please reach out to one of our attorneys with Winslow & McCurry, PLLC at info@wmmlegal.com or 804-423-1382.