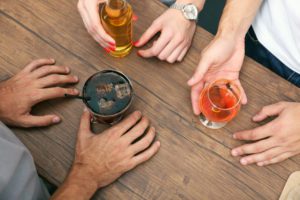 Since the start of the pandemic, most everyone who has been following the news knows that while everyone is passing the time in quarantine people are drinking alcohol more. The pandemic has also made it more necessary for people to take psychotropic medications they never might have consumed with the stress the disease is causing in everyone. And, as we have commented on our own webpages, domestic violence reports are going up while family members are socially distancing.  
Most people intuitively understand that people accept some measure of risk when they choose to drink. But at what point is a person not assuming the risk and absolved from criminal responsibility for what they do? There are two answers. The first is that, in cases of first-degree murder (punishable by imprisonment from 20 years to a life term), intoxication of any kind is a defense to the element of premeditation to commit murder—a necessary component to being convicted of that offense. When the accused can show that, they can only be convicted, at most, of second-degree murder (punishable by imprisonment from 5 to 40 years).
 The second, and more common circumstance, is more complicated.
 In Virginia, nearly 100 years ago, our Supreme Court stated that voluntarily getting oneself intoxicated does not suffice to claim the affirmative defense of intoxication. This included even drinking whiskey that a physician prescribed for a patient suffering from a toothache. It also includes a case where a person had a possible neurological abnormality so severe that he suffered an altered and violent mental state. Even "sleep driving" while on Ambien and Benadryl has been insufficient to show involuntary intoxication.
 So where is the line then?
"The only safe test of involuntary drunkenness … is the absence of an exercise of independent judgment and volition on the part of the accused in taking the intoxicant—as, for example, when he has been made drunk by fraudulent contrivance of others, by casualty, or by error of his physician." Johnson v. Commonwealth, 135 Va. 524, 536 (1923).
That essentially leaves two situations where intoxication is a defense in Virginia for most crimes: (1) being surreptitiously intoxicated without your knowledge or (2) consuming a substance as directed by your physician but where the physician mistakenly prescribed the wrong dose.
Today, neither of those is an impossible burden. With the advent of date rape drugs never known a century ago and the medical mistakes made everyday by doctors and pharmacists, a good attorney who recognizes what evidence can exonerate you is critical to protecting yourself from a wrongful conviction. At Winslow & McCurry, we have experience working with toxicologists and other experts to help meet that burden.
If you or someone you know is facing a charge who was unwittingly intoxicated at the time it happened, and they live in the Richmond, Henrico, Chesterfield, or Hanover area, email us at info@wmmlegal.com or call us today at 804-423-1382 and we can help!​