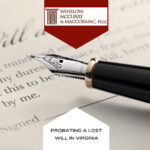 When the probate of assets is necessary once someone passes, the traditional process is to set up an appointment with the probate division of the Clerk of Court to probate the original will.  When the original will can not be found, there are instances that a copy of the will may be used to proceed with the probate.
Probating a copy of a will in Virginia requires an additional step – a petition must be be filed in the Circuit Court where the decedent last lived (unless they were in a nursing home, then other rules may apply) asking that the Court accept the copy as the original will.  A Virginia court will enter a copy of a will into probate when an "estate's executor successfully rebutt(s) the presumption that the missing original "was revoked by clear and convincing evidence.""  In other words, it is up to the Executor to provide clear and convincing evidence to the Court that the decedent didn't revoke the prior will.  The copy by and in itself is not sufficient.
This does not mean that it is impossible.  For example, in the recent case of Glynn, et al. v. Kenney, Record No. 0327-21-1, in the Circuit Court of the City of Virginia Beach the Circuit Court heard testimony regarding the inability of the Executor to find the original will and after hearing about the state of the decedent's home and their relationship with their family, ruled that the copy of the will was sufficient and entered the copy of the will into probate.
For more information see: https://valawyersweekly.com/2023/04/03/evidence-shows-that-will-was-not-destroyed/
If you have questions about a copy of a will and whether or not you can petition the Court to enter the copy, we would be happy to help.  You can call our office at 804.423.1382 or email us at info@wmmlegal.com to set up a consultation with one of our estate attorneys.  We would like to help.