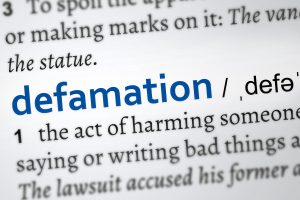 Our firm gets questions almost weekly from people who call asking what they can do about criminal charges or other public allegations that were filed or published against them that they were factually innocent of. 
The latest prominent allegation in Virginia of a false accusation is the ongoing litigation in Fairfax County between actor Johnny Depp and his ex-wife actress Amber Heard. She alleged that he abused her on multiple occasions and, as a result of her allegations, he lost a number of starring roles in films and other work. He has now countered her allegations by releasing recorded phone calls and other information alleging she was abusing him. In response, last year he filed a defamation suit against her in Virginia that, as of March 27, is now going to trial alleging damages from her accusations. We don't know yet how that case will end. But it touches upon many important points in this area of the law.
Can someone who is truly falsely accused file suit against people who obtained criminal charges against them? Yes. The most common ways are suits for defamation, defamation per se, malicious prosecution, intentional infliction of emotional distress, and malicious use of legal process. In this and in a number of posts to follow, we will review them all.
The elements of defamation are the following:
   1.       Publication of,
   2.       A statement that harms your reputation in the community or harms the relationships you have with others,
   3.       That the defendant made.
Defamation per se is similar, but has additional requirements, there the statement must concern any of the following:
   1.       Those which impute to a person the commission of some criminal offense involving moral turpitude, for which the party, if the charge is true, may be indicted and punished.
   2.       Those which impute that a person is infected with some contagious disease, where if the charge is true, it would exclude the party from society.
   3.       Those which impute to a person unfitness to perform the duties of an office or employment of profit, or want of integrity in the discharge of the duties of such an office or employment.
   4.       Those which prejudice such person in his or her profession or trade. 
Defamation cases, however, are extremely fact-dependent. There are also affirmative defenses anyone looking to file a defamation case must get around. And that is why a person seeking to recover their reputation will want to speak to an attorney experienced in defamation matters before proceeding further. If you or someone you care for has been the subject of a false accusation, and needs help recovering from it call the attorneys at Winslow & McCurry for a consultation at 804-423-1382 and we can help!​