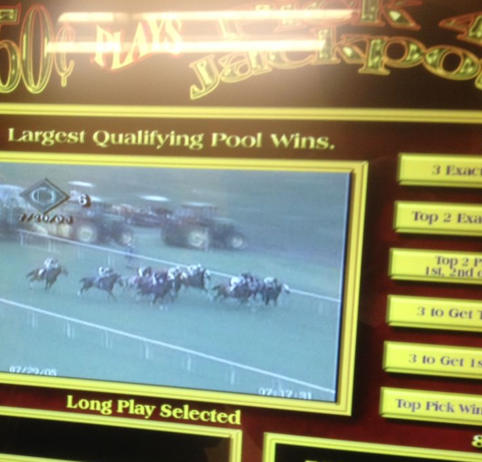 After five years of being shuttered Colonial Downs is back open.  The facility closed its doors in 2014 after contract negotiations between track owners and horse owners broke down.
No live racing is scheduled to take place until August 8, 2019.  However, the Grand Opening of the New Kent facility occurred April 23rd.  With no actual racing occurring at racetrack for over three months, what will take place in the building all summer?
The answer is that simulcast off-track-betting is back in the Commonwealth, and a new type of gambling machine called "historical horse racing" is up and running at Colonial Downs.
The machines allow players to place bets on past races that have occurred around the country and then watch a replay of the race.  The odds for the horses involved are shown, but horse names and race's location are not revealed until after bets have been placed.
Even the most prolific handicapper shouldn't be able to identify a past winner based solely on the number of participants and the odds on each horse.
Legislation was signed by Governor Northam in June of 2018 that made these "instant racing" machines legal in Virginia.  Traditional slot machines and table games are still illegal in the Commonwealth.
OTB locations are scheduled to open in Vinton, Richmond, and Hampton in May, June, and September respectively.
The Richmond location is taking over the old Kmart at the intersection of Chippenham Parkway and Midlothian Turnpike, right near the Chesterfield border.  The Richmond facility will be 140,000 square feet and feature 700 historical horse racing machines.
If you have questions about the shifting legalization of gambling in the Commonwealth, please contact the attorneys of Winslow & McCurry, PLLC at (804)423-1382 or email us at info@wmmlegal.com.