After the New York Times published a Princeton University study regarding eviction rates in the U.S., it revealed that the City of Richmond had the second highest eviction rate in the country. The study found that in 2016 one-in-nine City of Richmond families were evicted through legal action and one-in-five were threatened with eviction. Moreover, the study found that at the time over 30% of Richmonders received an eviction notice in any given year.
Troubled by these numbers, the City of Richmond has put an Eviction Diversion Program in place.  This program provides evictees with a "clean slate" by helping tenants avoid receiving an eviction on their rental history while helping to guarantee that landlords are paid back the money they are owed, usually through a payment plan. Tenants will be eligible for this program only once and would be able to stay in their homes while paying their arrearages – but in order to qualify – their landlord must agree.  To learn more about the program, please see the below flyer: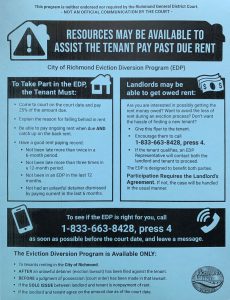 The Commonwealth of Virginia is also working toward a more far reaching program – but that program will not start until June of 2020.
Both of these programs look to help vulnerable tenants stay in their homes while providing payment to the landlord.  If you are facing an eviction (or have filed for eviction against a tenant) and are wondering what options you (or your tenant) may have, please do not hesitate to contact us at 804-423-1382 or info@wmmlegal.com to schedule a one-on-one consultation with one of our experienced landlord-tenant attorneys.